Chinese Dictionary for Palm
Character Search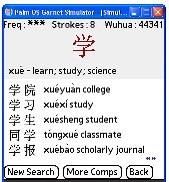 The Character Search feature allows you to:
Look up Chinese characters by pinyin, English equivalent, or handwritten input
Display pinyin, English meaning, usage frequency, and stroke order for any character
Display common compound words using a character on the character's information screen
Access extensive list of other compounds using a given character
Compound Search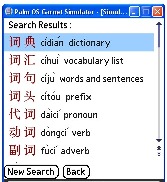 The Compound Search feature allows you to:
Look up Chinese compound words by pinyin or English equivalent
Display pinyin and English meaning for any compound word
Touch any character in any compound word to view its character information and associated compounds
Explore relationships among related words
English Search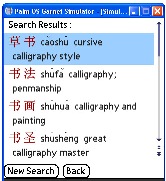 The English search feature allows you to:
Find Chinese equivalents for English words and phrases
Display Chinese characters and words matching an English search term
Display all definitions containing the search term--not just exact matches
Touch any character on the results screen to display its character information and associated compounds
Handwritten Character Input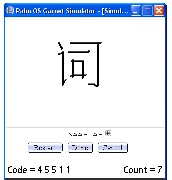 The handwritten character input feature allows you to:
Look up unknown Chinese characters from a book, newspaper, or street sign
Use wildcard matching for complex characters
Find a character using just the first several strokes and the approximate stroke count, even if you don't know the complete stroke order
Select the desired character from a list of possible matches
Usage Notes

The program will work on most Palm PDA devices and Treo Smartphones. To test whether the program will work on your device, download a free trial copy of the Clavis Flashcards for Palm.
The program requires that WebSphere Micro Environment Java Virtual Machine (JVM) be installed on the Palm device. The JVM can be downloaded here.
The handwriting recognition system is based not on character shape, but on stroke order and number. Strokes must be entered in the correct order for a character to be recognized.