Chinese Flashcards for Palm / Blackberry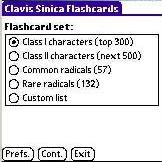 While there are no shortcuts to memorizing Chinese characters, Clavis Flashcards for Palm / Blackberry can make an otherwise tedious process more efficient and enjoyable. Combining the powerful dictionary features of the popular Clavis Sinica software with the portable convenience of handheld devices, this new software helps you learn new vocabulary anytime, anyplace, whether at home, at work, or on the go.
Basic Version (Palm and Blackberry)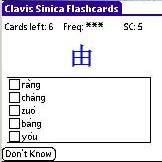 Chinese Flashcards for Palm/Blackberry is based on the popular Clavis Sinica flashcards tool. Both versions include three built-in flashcard decks: Class I characters (the 300 most commonly used characters in Chinese), Class II characters (the next most commonly used 500), and Xinhua radicals (the 189 simplified radicals). For each card, you are shown a character and asked to select the correct pinyin and English definition from a list of options. Answer correctly and you are shown the next card; answer incorrectly and the correct answer is displayed.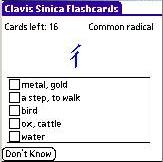 The character cards in each deck are arranged in stroke-count order, so you can focus on mastering simpler characters with fewer strokes before moving on to more complex characters. At the end of each test, you can create a new custom flashcard set based on characters you missed, so you can come back to these in a later session. Finally, each character card requires only two stylus touches on the screen, so you can work through them quickly and efficiently.
Pro Version (Palm only)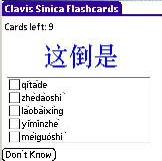 Now you can review your own vocabulary lists, including multi-character compound words, on your Palm device. The Pro version includes all the features of the Basic version, but also allows you to download custom vocabulary lists directly from your PC to your Palm device using a USB cable. Vocabulary lists can be created automatically with the Clavis Sinica desktop software, the free Vocabulary Extractor tool on our website, or using any Chinese word processing program. (A memory expansion card is required to use the file download features.)
Chinese Flashcards Feature Summary:

Flashcards include 800 most commonly used characters and 189 Xinhua radicals
Characters displayed in simplified or traditional form
User can select subset of any number of cards to drill in a given session
Characters are arranged in stroke-count order, so simplest characters can be mastered first
Each card requires identification of correct pinyin and correct English gloss from randomized lists of options
One-touch Palm screen interface design makes for natural and effortless flashcard testing
Missed cards automatically reinserted into the deck for further testing; user can specify how many times a missed card should be repeated
User can create custom flashcard sets consisting of characters missed in a previous session
Pinyin romanizations displayed with standard tone marks
Concise, accurate English glosses based on Clavis Sinica dictionary
User can download customized vocabulary lists containing multi-character compound words from PC to Palm (Pro Version only)
Works with most Palm devices including Treo 600, 650, 680, and 700 P smartphones, Tungsten C, E, E2, T3, and T5, T|X, LifeDrive, and Zire 72 handhelds
Basic version works with most Blackberry phones (OS 4+)
No additional Chinese language software required