Radical Information Window
The left side of this window displays a definition and etymological note for any given radical, along with stroke count, xinhua and kangxi radical index numbers, character count, and a cross reference to alternative forms of the radical, if any. The right side provides a scrollable list, in frequency order, of all characters based on this radical. You can double-click on any character in this list to bring up the Character Information Window for that character, or right-click to hear its pronunciation.
You can also improve your knowledge of the Chinese radicals by using the free Chinese Flashcards tool on this website.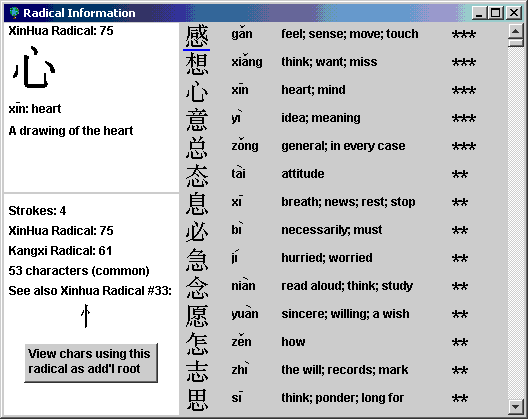 When learning a new character, like gan or si in the above list , it is also very helpful to have some examples of the compound words it forms. The Compound Window provides a list of the most common words and phrases in which a particular character is used.