Text Reader Window
The Clavis Sinica Text Reader displays digitized Chinese texts in a large, easy-to-read format. Characters can be displayed in either simplified or traditional form, and basic editing functions are available. Basic dictionary information for the currently selected character is shown at the bottom of the window; right-clicking on any character provides access to corresponding character, radical, and compound information windows. You can also hear the pronunciation of the current character or compound with the press of a single key, and add unfamiliar words and characters to customized vocabulary lists, which can be saved for later study or drilled using the built-in flashcard tool.
If you'd like to try out a demo version of the Text Reader Window online, please visit the Chinese Text Reader page on this website.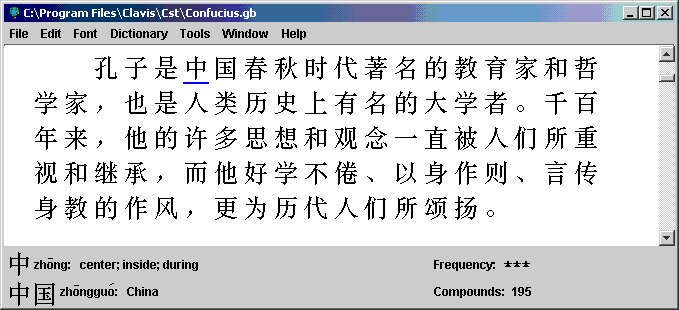 If you want to see more information about a character shown in the Text Reader Window, you can simply double-click on the character to bring up the corresponding Character Information Window.